Note: All times are in Eastern Daylight Time, and this occurred in 2023.
I was (and still am) new to Hack Club, and I saw an event was going on. Outernet. It was a 4 day camping/coding trip in a rural city called Cabot, Vermont. In this event there were guilds, and each guild got $200 to do something. Some did sports, some ran a café. OuterLAN setup and maintained Starlink internet throughout the event.
The first meeting was held on June 16th at 12:00 PM. We came up with the initial budget, talked about what we would run, etc.
The next meeting was held on June 23rd at 12:00 PM, where we solidified the infrastructure plan. We decided to buy cable ramps, buy Flex Seal spray, cut back on the amount of Starlink dishes, host Kanidm for authentication, Matrix for chatting across the camp, Forgejo for hosting code, Kiwix for rehosting Wikipedia and various stack exchanges, and step-ca for the certificate authority as we wanted to add SSL for the .outernet LAN domains, and Caddy.
192.168.1.0/24 would be the administrator subnet and 10.10.0.0/16 would be the subnet for all attendees. We also decided where each access point (Ruckus R710) would go. Below are KMZ files of the access points and areas of the camp, and the spending of OuterLAN (powered by HCB).
I made a draft detailing how Matrix would be setup. Over the next couple of days, we refined how Matrix would be setup and deployed
We went with Cinny for the UI, Postgres for the backend, Synapse for the server, synapse-admin for managing the users, and matrix-appservice-slack for bridging the Slack and Matrix together.
I attempted to setup Kanidm to work with Synapse, but it was too complex for me, so I left it for someone else.
June 30th at 12:00 PM was the next meeting, and we discussed responsibilities/jobs. My responsibilities before the event were to help with remote server configuration and setting up the Kiwix server. During the event, my responsibilities were to help with server configuration, end-user support, Matrix administration, Kiwix configuration, firefighting (dealing with issues as they pop up), and possessing a walkie-talkie.
On July 1st, we had Tailscale access to the staging server. This staging server was a playground to setup things like Kanidm and Matrix before the event.
On July 7th, we bough all of the equipment! Over $10,000 worth of things would be shipped to Hack Club's headquarters in Shelburne, Vermont. I also downloaded several things such as Wikipedia, Stackoverflow, and other stack exchanges.
After that, we've had various top-up meetings where we would review the plan. That's not important to our story as they provide very little insight to the event.
Skipping to July 25th, three days before Outernet, something bad happened.
we are unable to install proxmox on it because the drives aren't showing up because there's no raid configured. we were trying to flash the raid controller yesterday to basically "disable it" and turn it into an HBA controller instead

that way we can use ZFS etc

if we just configured raid, ZFS won't work and hardware raid sucks
Reese sent this in the #outernet-lan
The server just wouldn't boot. It was a hardware raid issue, and I'm not sure of what exactly happened but something needed to be flashed. Kognise had access to the server so she helped flash the raid controller. After two days of freaking out, it suddenly worked!
Day of the event
I was pulling an all-nighter as I was so excited for Outernet, so I was awake from around 8 AM of July 27th. I had my luggage on the back of the truck and we set sail for Hartsfield-Jackson International Airport
I finally arrived at Hartsfield-Jackson International Airport. This was my first time inside the Airport. I've been through the drop off ramp to drop off my aunt before, but now this was my time to get on a plane.
After I got inside at 2 AM, my parents said goodbye and it was time for me to navigate the world's busiest airport, alone.
I had to go through this line. Thankfully it only took around 20 minutes.
I also had Trispy letting me know of gate changes before my airline did. I also went to the other side of the concourse (Concourse T) just to get 2 bottles of Coca-Cola ($3.25 each).
My plane departed at 6:00 AM.
Delta has free Wi-Fi for SkyMiles members and T-mobile subscribers. Anybody can make a SkyMiles account so maybe it's just a push to get people to signup for SkyMiles? At least I could watch YouTube 42,000 feet in the air.
After 3 hours, it came to an end, with my plane arriving 16 minutes early.
I couldn't believe I was actually in Boston. I've never flown a plane before, nor left my state before by myself. Yet there I was.
For those choosing to go to Boston-Logan, Hack clubbers met up at Bremen Street Community Park. I wanted to do one thing while I was there. Rent a BlueBike.
I rented a bike for 30 minutes at the Bremen Street Bikeshare station. It was nice riding in the park.
Some of us went to get Hispanic food. I only wanted a Coca-Cola. I was also surprised on how the streets are designed in East Boston. Soon, it was time for us to depart Boston and head to Vermont.
Alex, Samuel, and I were on the bus to Vermont to help with OuterLAN. We took this photo in New Hampshire. We finally arrived at Outernet and we had to check in.
We spent a lot of the event running around solving issues, worrying about the network running out of IP addresses to assign, worrying about the internet being down for most of the event, etc.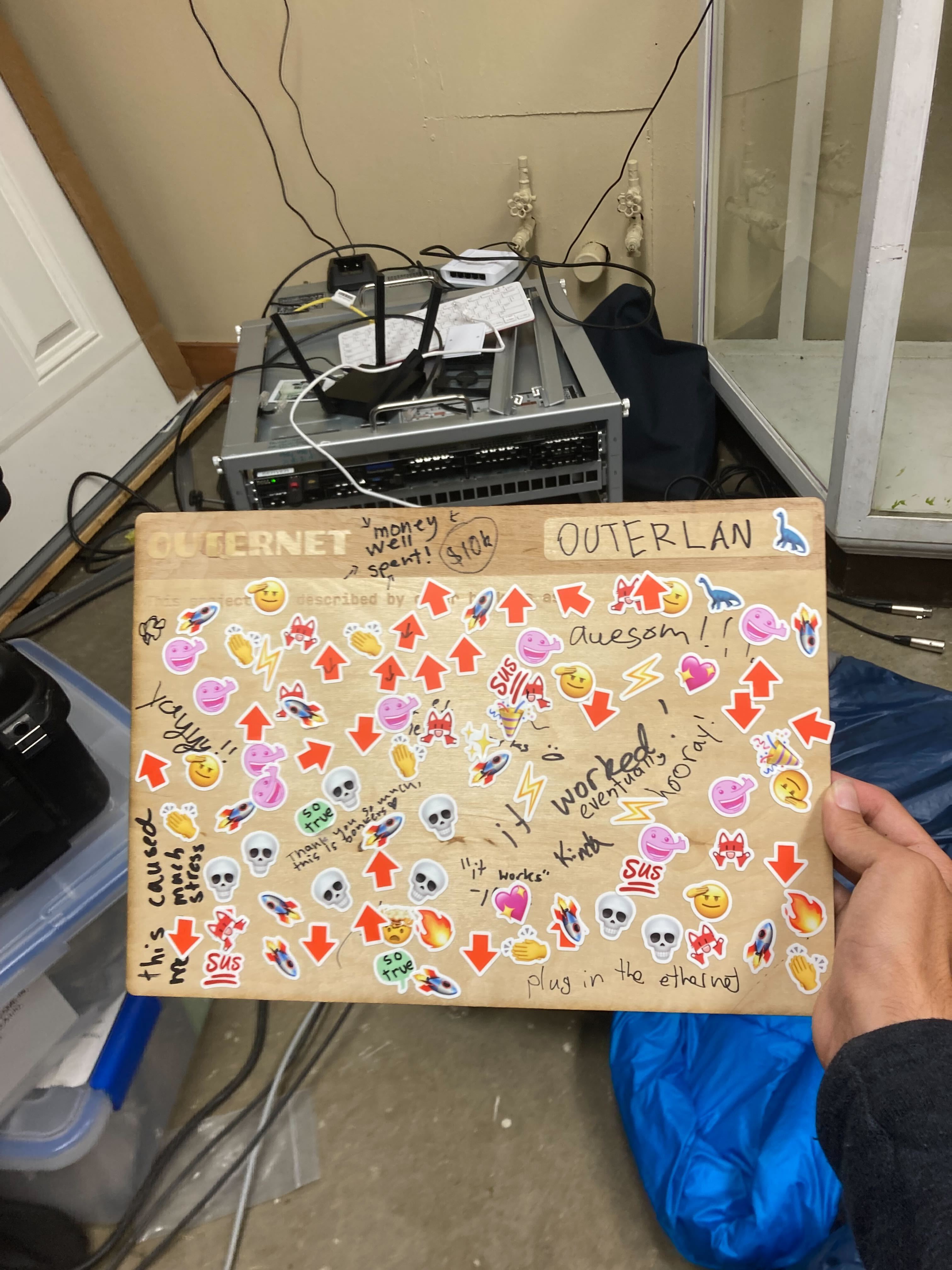 Leaving Outernet was a bittersweet experience. Also, Samuel and I's flights were delayed by a lot and we switched gates a lot, but even though we have different destinations we got the same gate over and over again until the last one
Overall, I thought this experience was valuable and it was a fun trip. Thanks to Reese, Aileen, Samuel F, Ajith, Alex P, Cara, Kognise, Sam Poder, and Om Patel for making OuterLAN and Outernet so fun!